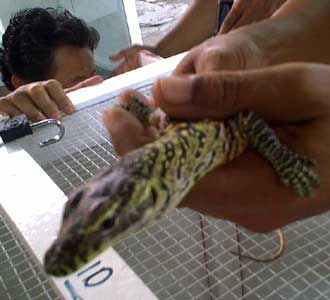 Good news came from Surabaya Zoo - Indonesia, after losing three dragons,
Surabaya Zoo finally
managed to add to the collection after the birth of 12 children of
Komodo dragons
. From the team record keeper dragons, the total number of eggs that there are 16 grain. After going through the process of displacement, 4 eggs otherwise problematic. With details of two eggs damaged or dead and two remaining eggs have not hatched.
For about 8 to 9 months, the
Komodo dragon eggs
are placed in special incubators reptiles owned Surabaya Zoo. In practice, the incubator was very helpful birth komodo dragon eggs since 2003.
As is known, or Varanus komodo Komodoencis is one of the wild species of reptiles and carnivorous. In addition, the Komodo dragons in
Komodo island
including in the
New 7 Wonder of the World
.
Based on existing data, the number of dragons in the Surabaya Zoo all 56 tails, consisting of 21 children and 45 komodo dragons adult. With the loss of three tails are a few, now the remaining 18 children dragons tail plus 12 newly hatched baby dragons.
Komodo Island is the NEW 7 Wonders of The World